In the afternoon of Monday, February 15, the general council of the World Trade Organization (WTO) made a historic decision which gladdens the hearts of millions of Nigerians home and abroad: it appointed Ngozi Okonjo-Iweala as the WTO's director-general.
By the historic appointment, Okonjo-Iweala has become the first woman all over the world to emerge as the DG of the WTO. That's not all, she is also the first African to head the organization. What a record-breaking achievement!
In his reaction to the appointment, Demola Olarewaju, a member of the Peoples Democratic Party (PDP) said the new development is "yet another proof of the sterling quality of Ministers who served Nigeria under previous Govts, compared with what is currently obtainable."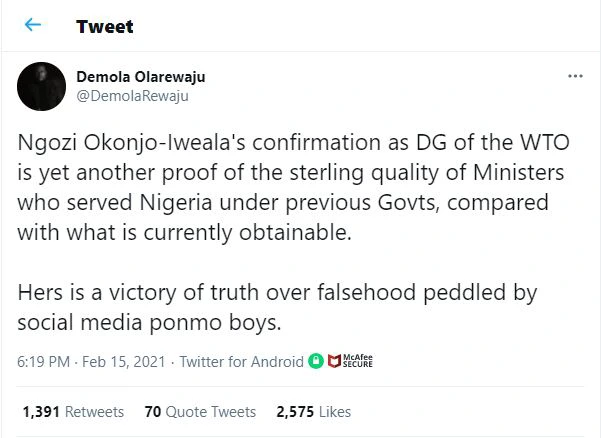 Source: Twitter/@DemolaRewaju
Though Olarewaju's submission is unapologetically partisan (I will return to this later), there is some truth to it. A good number of those who worked for Jonathan, indeed, have moved on to get international appointments, a clear indication of their competence.
In this piece, I list five ministers/other appointees who worked for Jonathan and have gone ahead to land top international jobs.
1. Ngozi Okonjo-Iweala
Okonjo-Iweala is not a stranger in the Nigerian political space. She had earlier worked for ex-President Olusegun Obasanjo as finance and foreign minister before the Jonathan administration.
Under Jonathan, she served as the minister of finance.
Meanwhile, the current WTO job is not the first international appointment Okonjo-Iweala would get after leaving office as minister.
In 2015, Lazard Limited, a popular financial advisory and asset management firm that operates in 43 cities across 27 countries in Europe, Asia, Australia, North, Central and South America, appointed her as a senior advisor with focus on sovereign advisory.
She was also appointed the chair of the board of Gavi, the Vaccine Alliance, founded by Bill and Melinda Gates.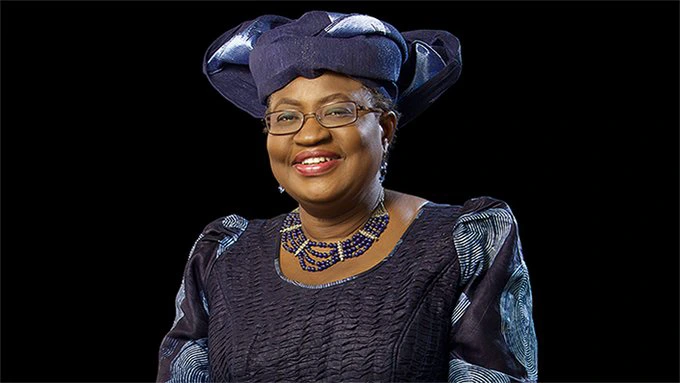 Photo source: WTO, Twitter/@wto
2. Akinwumi Adesina
Akinwunmi Adesina served as the minister of agriculture under the Jonathan administration.
With Jonathan's failure to secure a second term in office, Adesina moved on to contest and emerge as the president of the African Development Bank (AfDB) also in 2015. He was re-elected in 2020.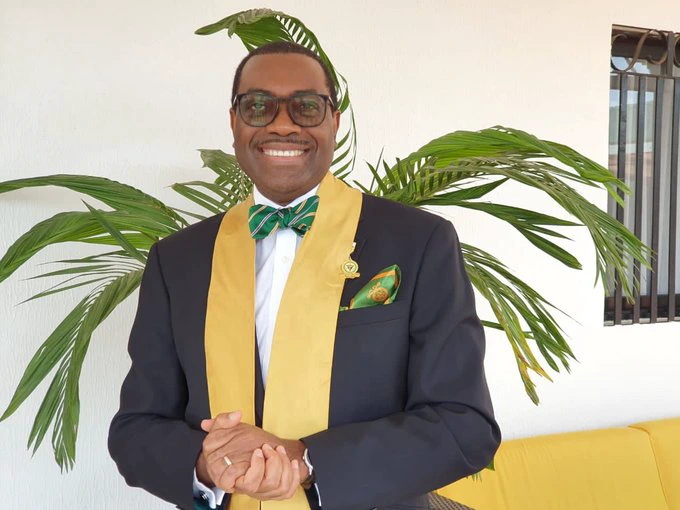 Photo source: Akinwumi A. Adesina, Twitter/@akin_adesina
3. Muhammad Ali Pate
Pate's case is kind of different from others in this list.
He served as the minister of state for health under the Jonathan administration. However, he didn't serve out his tenure.
Pate resigned in 2013 and took up an appointment as a Professor at Duke University's Global Health Institute, USA.
He is now the Global Director, Health, Nutrition and Population (HNP) Global Practice of the World Bank and the Director of Global Financing Facility for Women, Children and Adolescents (GFF), based in Washington DC, USA.
Photo source: AMT, Twitter/@AMTanimu
4. Amina J Mohammed
Mrs Mohammed's case is also unique. She has incredibly worked with all the presidents Nigeria has had since its return to Democracy in 1999.
Between 2000 and 2014, she worked with Obasanjo, Yar'Adua, and Jonathan administration as senior adviser on implementing the Millennium Development Goals (MDGs).
Between 2015 and 2016, Mrs Mohammed served as the minister of environment under the Buhari administration before moving on to become the Deputy Secretary-General at the United Nations, serving under António Guterres, the current Secretary-General, in 2017.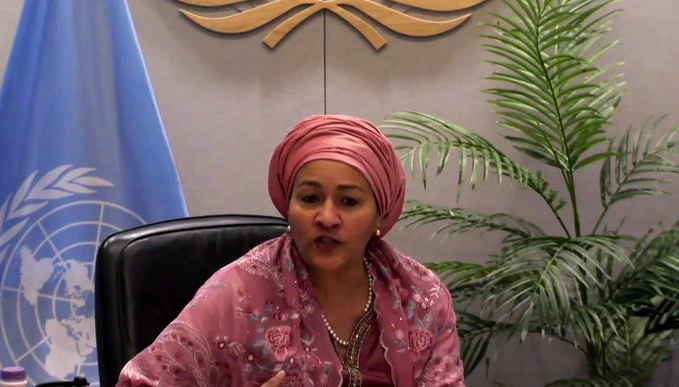 Photo source: Amina J Mohammed, Twitter/@AminaJMohammed
5. Arunma Oteh
Oteh was first appointed by the Yar'adua administration as the Director-General of the Securities & Exchange Commission in 2009.
Jonathan, however, retained her in position when he assumed office as Nigeria's president after Yar'adua's death.
After the Jonathan administration was sent packing, Oteh moved on to the international level as she was appointed Vice President and Treasurer of the World Bank.
She occupied the position until 2018 after which she joined St Antony's College, Oxford University, as an academic scholar and an executive-in-residence at Saïd Business School.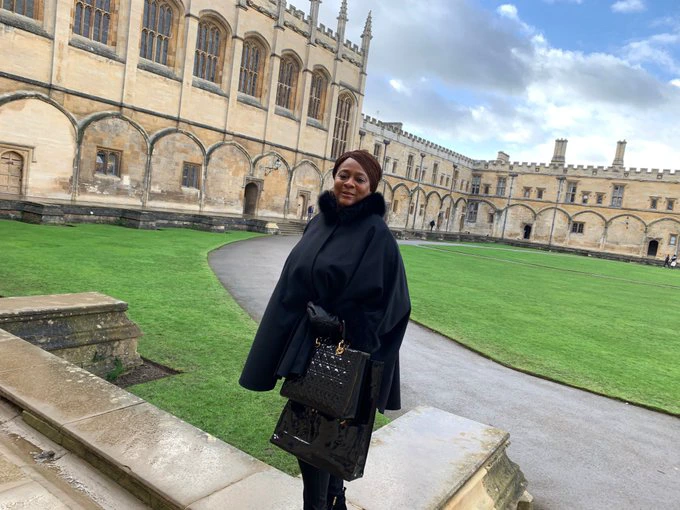 Photo source: Arunma Oteh, Twitter/@aoteh
Why the appointments cannot be reduced to partisan politics
Meanwhile, contrary to Olarewaju's partisan perspective cited earlier, there are also many ministers/appointees under the Buhari administration who are competent to hold international appointments. Examples are Isa Pantami (communications minister), Sunday Dare (sports and youth minister) Chikwe Ihekweazu, DG of the Nigeria Centre for Disease Control (NCDC), to mention a few.
Similarly, there were also many ministers who worked for the Jonathan administration other previous governments whom no one wants to associate with anymore. A prominent example is Diezani Allison-Madueke who has fled Nigeria over the numerous corruption cases hanging on her neck.
It is also noteworthy that President Buhari, ignoring partisan affiliations, supported Okonjo-Iweala, Adesina and others to secure the international appointments.