It's very clear that on the 20th of January, 2021 Joe Biden was inaugurated as the United States President as he takes over power from Donald Trump.
As Joe Biden takes over the office of the presidency, he has been making some changes already, as he lifts travel ban on some countries that was initially restricted by the former president, Donald Trump.
On Thursday 21st of January, 2021 The newly inaugurated United States President, Joe Biden released a New Announcement On Twitter via his official Twitter account. This announcement has got so many Americans reacting on Twitter.
Joe Biden announced that his administration doesn't have a second to waste when it comes to controlling the deadly coronavirus disease.
He also announced that today he will be signing executive actions to expand testing, administer vaccines.
Biden added that he will also safely reopen schools and businesses across the country.
See the tweet in the screenshot below;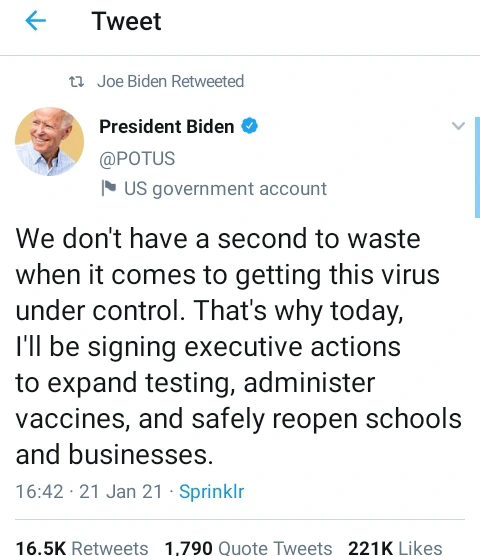 See reactions below;